From € 455 / week
You need help? Contact us
+ 33 (0)2 99 81 11 83
6 people Malouin Cottage
6 people – 3 bedrooms – 32sqm

From € 455 per week
This large atypical accommodation is wood-clad and painted in red and beige and offers best value for money and comfort, with a central heating system.
Facilities:


Heater in each room and strengthened insulation


Lounge with sofa, dining table and flat-screen TV


Kitchenette equipped with a sink, 4 gas cooking plates, microwave, tabletop fridge, coffee maker (cooking utensils and tableware are provided).


Bedroom with a double bed (140cm large) and two twin bedrooms with 2 single beds (80 cm large) – undersheets, blankets and pillows are provided


Shower room with washbasin


Separate toilets


Decking with wooden garden furniture and charcoal barbecue


Parking next to the accommodation. Towels and sheets are not included. Animals are accepted with extra charge. End-of-stay housekeeping with extra charge. Non smoking accommodation.
Tariffs
From 05/04 to 05/07/2019 and from 01/09 to 22/09/2019 (except during French Bank Holidays*): minimum stay of 2 nights, arrival is possible any day of the week.
From 06/07 to 31/08/2019: full week bookings only, from Sunday to Sunday.
|   | 2 nights | 3 nights | 4 nights | 5 nights | 6 nights | 7 nights | Extra night |
| --- | --- | --- | --- | --- | --- | --- | --- |
| 05/04 - 11/04 | €148 | €216 | €280 | €340 | €402 | €455 | €65 |
| 12/04 - 04/05 | €162 | €237 | €308 | €375 | €444 | €504 | €72 |
| 05/05 - 05/07* | €148 | €216 | €280 | €340 | €402 | €455 | €65 |
| 06/07 - 12/07 | - | - | - | - | - | €630 | - |
| 13/07 - 19/07 | - | - | - | - | - | €784 | - |
| 20/07 - 02/08 | - | - | - | - | - | €861 | - |
| 03/08 - 16/08 | - | - | - | - | - | €1001 | - |
| 17/08 - 23/08 | - | - | - | - | - | €854 | - |
| 24/08 - 31/08 | - | - | - | - | - | €588 | - |
| 01/09 - 22/09 | €148 | €216 | €280 | €340 | €402 | €455 | €65 |
* French Bank Holidays:
The dates of stay are not flexible on these periods.
From 29/05 to 01/06/2019: €324 for 4 nights
From 07/06 to 09/06/2019: €243 for 3 nights
Map of the accommodation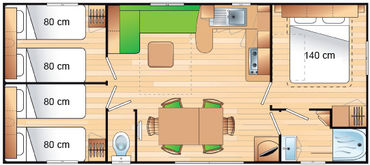 Localization on the campsite
You will also like