Our sustainable development policy: commitment and reality
Aware of the potential impact of a campsite on environment, we have focussed our investments for nearly 17 years on a more responsible policy in respect for environment. Here are our major achievements:
Recent eco-friendly manufactured O'HARA mobile homes, solar lighting in the paths of the campsite.
In the sanitary blocks: taps equipped with Presto water-saving system, waterless urinals, posters inviting our clients to be vigilant about water and electrical consumption.
Water treatment system by ionization at the indoor swimming pool which enables a significant reduction of chemical treatments and water use, latest generation heat pump water heaters in the swimming pools.
6-minute shower timers in the toilets to limit water consumption.
Setting up of a green wall.
Grouped waste collection: garbage is used as alternative fuel to heat a hospital and a university.
Vegetal waste crushing (chips are used for mulching), plantation of hedges for a better landscape integration.
Systematic use of recycled paper or paper produced according to sustainable forest management criteria.
Installation of beehives to favour pollination of our flowers.
A bio-waste composter, which reduces the waste to 90% in just a few hours, so that it can be used as compost for our plantations.
The hives of the campsite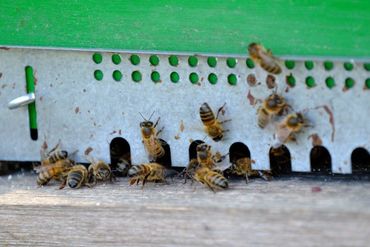 For the whole team of the Domaine de la Ville Huchet, protecting the environment and biodiversity is a subject that is close to our hearts. So, for more than 18 years, we have implemented multiple actions to reduce the ecological impact of a campsite on the planet. Since 2015 we have decided, with the help of professionals, to implant two hives in our campsite (north-west of the campsite) and it is a success! Indeed, the bee is a major actor in the preservation of biodiversity and it seems important to protect the survival of the species. It ensures, among other things, the pollination of flowers, the reproduction of plant species and thus ensures our food!
You will be able to find, each summer, in the grocery of the Domaine de la Ville Huchet, the home-made honey harvested thanks to these little bees. A delightful way to enhance our green heritage!
Composting of bio-waste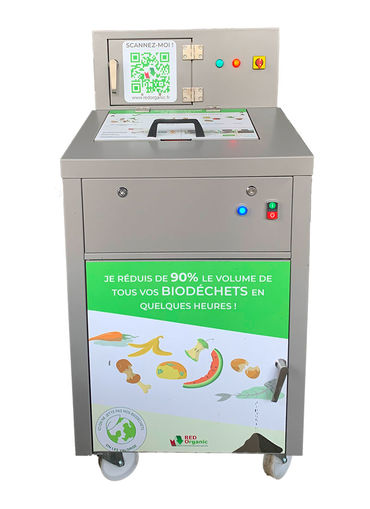 And to complete our actions in favour of the environment, we have chosen to set up the composting of bio-waste. To this end, we are proud to present: Shrek!
What is his role? Shrek is there to eat all your bio-waste and transform it into compost. This compost will then be used for our plantations.
Here is the list of foodstuffs that Shrek loves: food peelings, spoiled products, uneaten dishes, from vegetables to starchy foods, including meat and fish.
He digests all foods except large bones, shellfish, and cooking oils. Of course, it does not like cans, cutlery, etc.

How does it work?
You simply throw away your food waste. Thanks to the enzymes, the natural heating of the biowaste and the additional heating of Shrek, the biowaste will reduce by 90% in 6 to 12 hours. The resulting substrate is a hygienic, odourless powder that can be used as compost for planting.

See this short video for more details: here