From € 266 / week
You need help? Contact us
+ 33 (0)2 99 81 11 83
2 people Grand Comfort Mobile home
2 people – 1 bedroom – 20sqm

From € 266 per week
This accommodation is perfect for couples and offers 10 sqm per person.
Facilities:


Lounge with sofa, dining table, flat screen TV and heater (strengthened insulation)


Kitchenette equipped with a sink, 2 gas cooking plates, microwave, tabletop fridge and coffee maker (cooking utensils and tableware are provided)


Bedroom with a double bed (140cm large) – undersheet, comfort mattress, blanket and pillows are provided


Shower room with washbasin and toilets


A decking with garden furniture and charcoal barbecue


Parking next to the accommodation. Towels and sheets are not included. Animals are accepted with extra charge. End-of-stay housekeeping with extra charge. Non smoking accommodation.
Tariffs
From 05/04 to 05/07/2019 and from 01/09 to 22/09/2019 (except during French Bank Holidays*): minimum stay of 2 nights, arrival is possible any day of the week.
From 06/07 to 31/08/2019: full week bookings only, from Saturday to Saturday.
|   | 2 nights | 3 nights | 4 nights | 5 nights | 6 nights | 7 nights | Extra night |
| --- | --- | --- | --- | --- | --- | --- | --- |
| 05/04 - 11/04 | €92 | €132 | €168 | €200 | €234 | €266 | €38 |
| 12/04 - 04/05 | €102 | €147 | €188 | €225 | €264 | €294 | €42 |
| 05/05 - 05/07* | €92 | €132 | €168 | €200 | €234 | €266 | €38 |
| 06/07 - 12/07 | - | - | - | - | - | €420 | - |
| 13/07 - 19/07 | - | - | - | - | - | €455 | - |
| 20/07 - 02/08 | - | - | - | - | - | €567 | - |
| 03/08 - 16/08 | - | - | - | - | - | €665 | - |
| 17/08 - 23/08 | - | - | - | - | - | €539 | - |
| 24/08 - 31/08 | - | - | - | - | - | €371 | - |
| 01/09 - 22/09 | €92 | €132 | €168 | €200 | €234 | €266 | €38 |
* French Bank Holidays:
The dates of stay are not flexible on these periods.
From 29/05 to 01/06/2019: €204 for 4 nights
From 07/06 to 09/06/2019: €153 for 3 nights
Map of the accommodation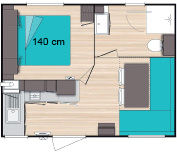 Localization on the campsite
You will also like